Labels

Sunday, 10 October 2010
Sunday, October 10, 2010 |
Posted by J.V.H*
|
Edit Post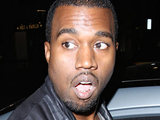 Kanye West has unveiled the names of a number of special guests on his
upcoming
fifth studio album.
Speaking to reporters after the screening of his short film
Runaway
, the rapper disclosed that a host of artists would feature on
My Beautiful Dark Twisted Fantasy
.
According to
BBC Newsbeat
, West revealed that La Roux's Elly Jackson, M.I.A, Alicia Keys, Jay-Z, Mos Def, John Legend, Kid Cudi, Bon Iver, John Legend and No I.D. will all contribute to the record.
He added that the as-yet-unfinished album would probably be delivered to his label on October 14.
West said that the album was designed for exposure at festivals and that he would like to play the UK circuit in 2011. He added that he would "end the run by performing in front of the pyramids in Egypt".
Labels:
Albums
,
Gossip
,
Kanye West
|
0 comments
ChatTime/Requests

Blog Archive
THE bLog LIST