Labels

Sunday, 15 August 2010
Sunday, August 15, 2010 |
Posted by J.V.H*
|
Edit Post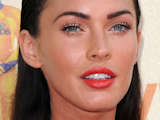 1. Megan Denise Fox was born on May 16, 1986 in Tennessee to Darlene Tonachio and Franklin Foxx. She was brought up with her older sister by her mum and step-father. She claims that her upbringing was "really strict" and that she spent most of her childhood grounded.

2. Megan Fox's recent and upcoming movie roles (Jennifer's Body, Transformers Jonah Hex) may be aimed at adult audiences, but what film gave the cool Hollywood beauty her breakthrough? It was actually the Olsen twins' twee family movie Holiday In The Sun. It's okay Megan, we won't tell anyone!

3. Megan is a big fan of animals. At some point in the past or present she has owned two birds, a Bangal Cat, a Boston terrier, a bulldog, a pig, a squirrel and a Pomeranian dog called Sid Vicious.

4. As well as being an animal lover, Megan is also fanatical about tattoos. She has at least eight known pieces of body art about her person, including a picture of her heroine Marilyn Monroe, the world "Brian" and a quote from Shakespeare's King Lear.

5. You would assume that with Fox's combination of good looks and acting talents she would have been one of the most popular girls in school, but apparently that couldn't be further from the truth. Fox ate her lunches in the toilets to avoid being "pelted with ketchup" and was apparently "not, ever for a second, popular". "Everyone hated me, and I was a total outcast," she claims.

6. Megan Fox was given the title of Sexiest Woman In The World in 2007 by FHM magazine's readers. However, it turns out that Megan isn't just a cover girl for the saucy men's mag - she is also a subscriber. That may explain the block voting from Mr M Fox that year then!

7. As a child, Megan preferred Teenage Mutant Ninja Turtle toys to Barbies or dolls. She also allegedly owns every single episode of the popular children's action cartoon.

8. Before she worked as a model and actress, Megan had one of the most unglamourous jobs imaginable. At the age of 15 she worked for Tropical Smoothie in Florida and was forced to dance around in a giant banana costume to attract customers.

9. Megan's sex life is one of the hottest topics in Hollywood gossip circles and lads' magazines. She doesn't seem to mind the speculation, saying: "I have the libido of a teenage boy. I'd rather have sex all the time than leave the house." However, she insists that despite these comments, she isn't someone that hops from bed to bed. "I'm extraordinarily sexual within a monogamous relationship," she insists.

10. The one question that has lingered about Megan Fox, despite numerous interviews about her sex symbol status, is over her sexual preference. The actress finally cleared up the rumours earlier this year admitting that she once fell in a love with a female stripper. "I have no question in my mind about being bisexual," she revealed.